EFY 2013 (SMYC)

January 13th-19th
I Was fortunate enough to be a Youth counsellor for the most amazing group of youth that changed my life & strengthened my testimony. I love my youth sooo much!! The YSA i served alongside also are the most incredible people EVERRR!!! Greatest experience of my life (so far)
Institute
Just got home from my first institute class without Blayney.. Well MPC really. MPC was really good, I feel that I can communicate the message of truth of the gospel with more compassion towards others who do not possess it or have yet to hear it.. It was a really great class, and is a great class to be apart of :)
Blayney would be proud of me haha
One thing I came away from MPC tonight that I am truly grateful for my testimony, I love having the gospel in my life and I hope to be an example to those around me ~
It was a weird feeling him not being around.. However it was good. To be surrounded with people who support me and love just the same :D
Tomorrow is a dance which will start off mini convention weekend. I'm looking forward to meeting new people :)
I'll let you know if I meet any interesting people LOL XD
Our last Sunday together
Last night i could not sleep it was sooooo annoying -~-"
Blayney and I both attend Missionary Preparation Class (MPC) and the last couple of weeks we've been discussing the importance of leaving commitments.. Long story short he committed me to bare my testimony as it would be Fast and testimony meeting.. I haven't bore my testimony is such a long time and just thinking about what i would say just kept me up for ages long.. I KNEW that either way i would be getting up even if I was freaking out.. Public speaking is NOT my thing AT ALL xS
So this morning, i DID IT! XD
I got up in front of the congregation and testified of the truthfulness of this gospel and how beautiful it truly is! I felt nervous before and during my testimony but afterwards, i felt relief and so much happier than i did previously! It was such an awesome feeling.
I expressed in my testimony how i would be sending off my missionary in THREE DAYS - mum caught on after Sacrament meeting was over and was like
"You didn't tell me It was Blayney's last sunday.. why are we here and not there?" (in his ward)

SO before we knew it we were off on a whirl wind adventure.. to Geelong LOL
We got there just before the last couple of testimonies - Blayney wasn't expecting us at all :)
It was really good to be there, although i didn't get the chance to hear his testimony but it was just good to be there in his home ward :D
People kept coming up to me asking me how I am and how I'm feeling, how i would be when he would leave.. I replied positively, that I'll be okay! However.. with three days to go, the reality of it all is just starting to scratch the surface.. xS
After church, we went back to Blayney's house and had lunch with his sister (Only some of my family was with me) they had fed us some toasted ham and cheese sandwiches. We chatted for a while, but then my family mad their way back home as Blayney and I planned to visit our friend in Melton! Amanda is a lovely with such a beautiful family that i used to babysit. It was great to spend time with them as we haven't seen them in such a long time. I'm so grateful for their friendship :D

We had dinner with them which was soooo good!! It was a great way to spend our last Sunday together :D
OKAY!! So on the way home, Blayney and I took a detour from the usual way home to dodge the booze buses, not coz we were dodge but he had a busted headlight and just cbb and was afraid he may be fined for it.. anyway BIG MISTAKE!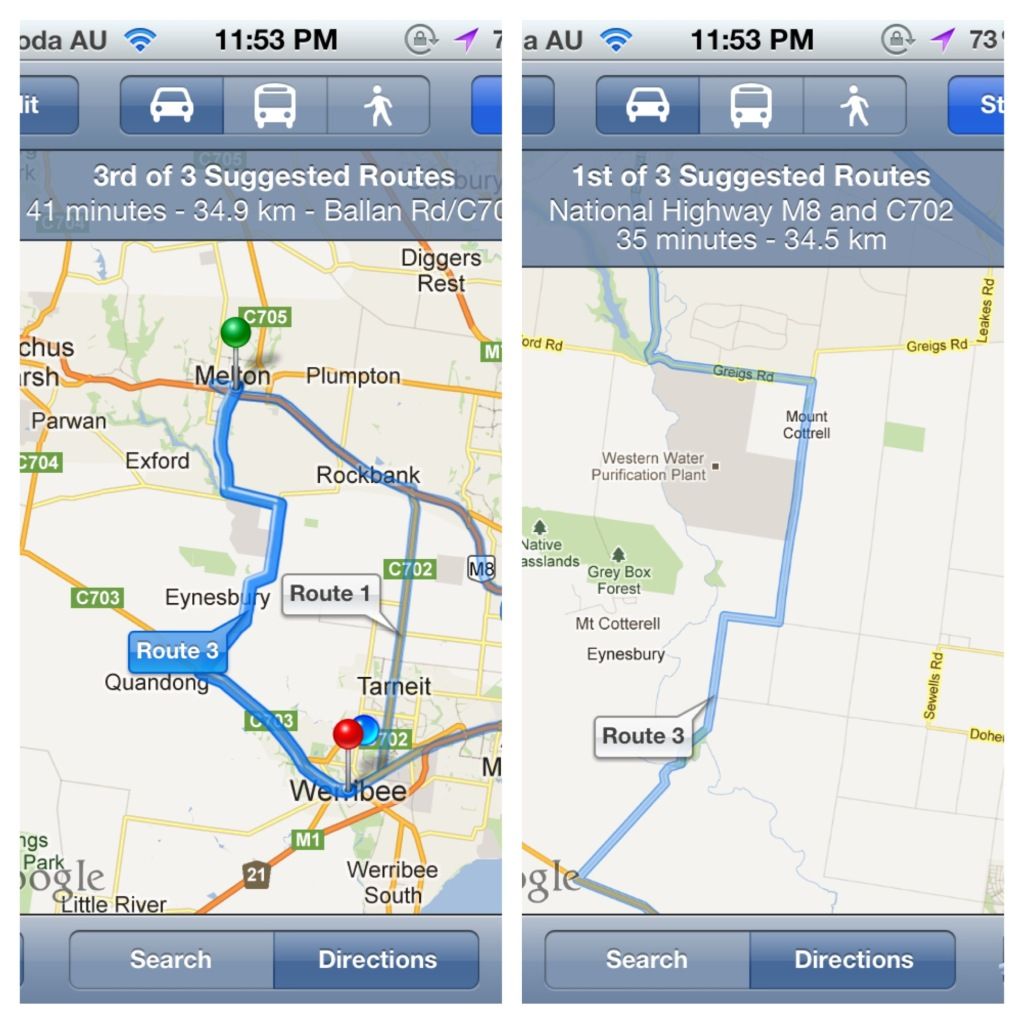 SO if you look at the photo I took from my iphone you'll see the distance and the route we had to take in order to get home (left) and then if you look closely (right side) you can see that the route we took was completely AWAY from civilisation!!
Blayney and I were traveling down this dirt track road for what seemed like forever with random forks in the road which both looked like the road to death :s (NO EXAGGERATION) it was dark, cold, and rainy!!! It was pretty bad! So travelling down this track, with no car behind or in front of us, I started to get worried.. That the ZOMBIES (O_o) would start to come out and eat our brains out! I swear I thought we were going to die out there.. We went down this slope as if we were on a crazy rollercoaster and this bird (I hope it was a bird) flew up from the side of the car – CREEPY AS – as we were going down scared the crap out of us both. Any so the scenery did not change for ages.. then our hearts sunk.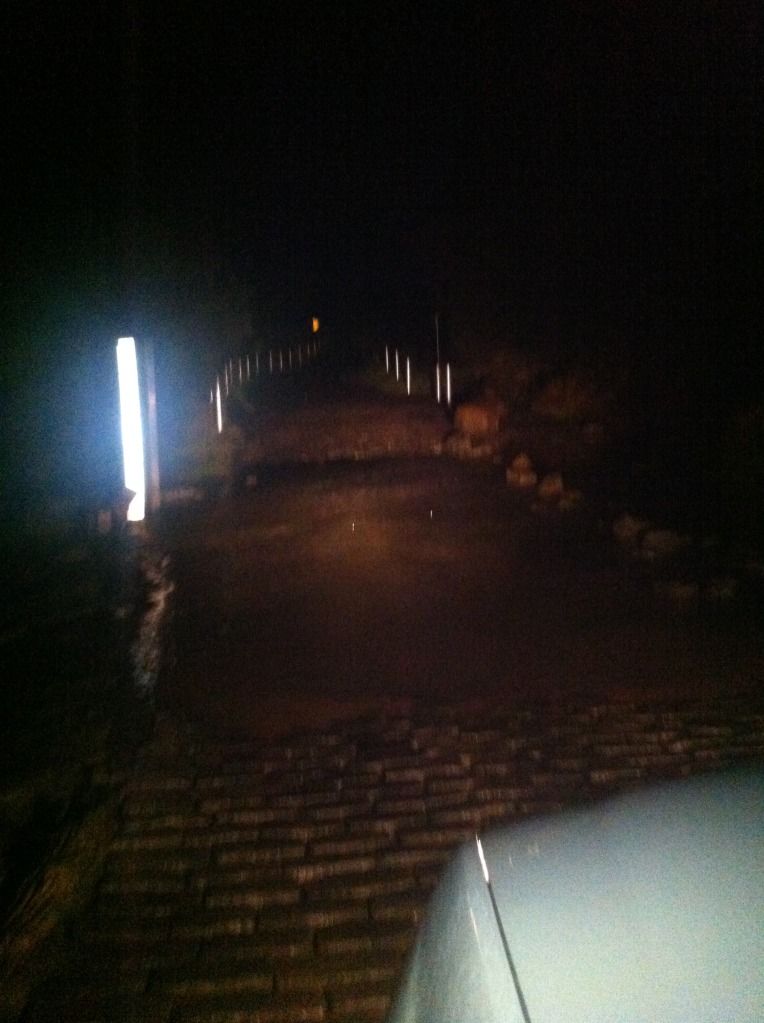 We got to this point were there was like a river or pond that had flooded the road!! We both looked at each other thinking, alright, there is no possibly way that we could turn back and call for help as WE HAD NO RECEPTION!! Blayney got out of the car to see how deep the water was.. we were both worried it was too deep and that we could not go any further. It certainly looked deep. It was raining hard and we both had to get home, so we looked at eachother and thought that the worse case scenario would be that if we stayed there and zombies would come and get us so we decided to drive through it.
It wasn't as bad and deep as it looked so – WE LIVED! However, it took sooo long just to get back onto the main road. We passed a random lone house in the MIDDLE OF NOWHERE with their lights on, so I locked my door – I MEAN WHO LIVES OUT IN THE MIDDLE OF NOWHERE?!!We FINALLY made to it the main road after what seemed like forever but when we got there.. we high fived each other – random I know but it was a crazy experience that I never wish to live through again! And we somehow ended up in the area where I lived. CRAZY!!
Well when we made it home we shared our survival story with my family and took some photos as it would be the LAST time (besides the other last time) Blayney would be at my house (for 2 years)!! It still feels surreal but today was truly memorable. I'm so going to miss him.
Oh – we spent the drive reading his old journals hahahaa ;D